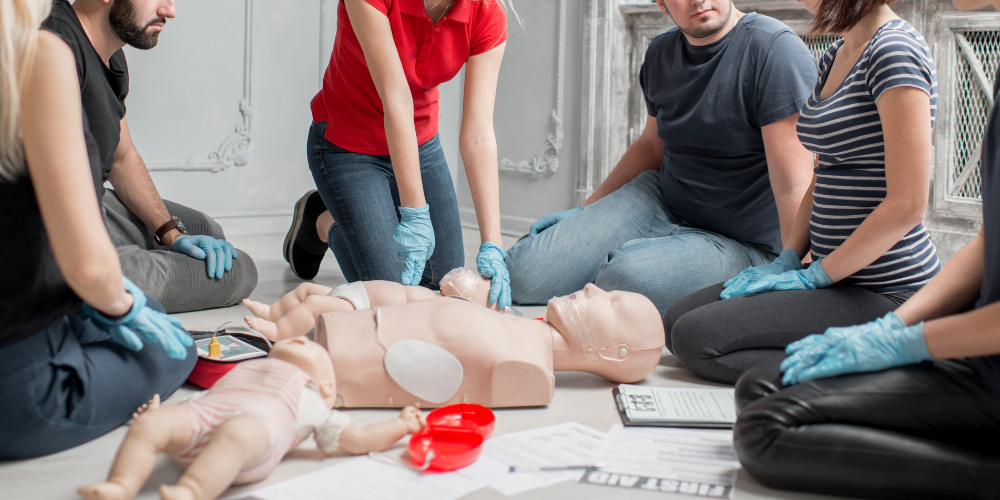 Team Spotlight:
Health and Social Care Trainer
Meet Abbots Care's Health & Social Care Trainer, Rachael, who specialises in Mental Health.
Rachael's main responsibilities include being our Mental Health First Aider and training our teams on the 15 standards of care. Rachael also plays a special role in mentoring and supporting our Care Workers when needed. 
Hi Rachael, can you tell us about your role as Health & Social Care Trainer?
I work as a health and social care trainer here at Abbots care. As part of my role, I train care workers and some office staff and managers the 15 standards of care, as well as other specialised subjects such as dementia care, mental health, epilepsy, skin integrity, dysphagia, record keeping and documentation, medication, stoma, and catheter care, live in care and more.
I am also the Mental Health First Aider for Abbot's care. I see my role as not just a trainer, but as mentor and support system for the care workers whenever they need guidance going forward in their caring journey.  I also see my role as being a positive representation of Abbots care and what it stands for.
Can you tell us about your key responsibilities as Health & Social Care Trainer?
I am so incredibly passionate about mental health and qualified through MIND as a Therapeutic Psychodynamic therapist, and I loved every single minute of my training and practice at MIND. My role as a mental health first aider is NOT to counsel or give advice to care workers or staff, but to listen, empathise and try to signpost those in distress to the many mental health resources that are available. Listening is such an undervalued and important tool in helping us to really validate how someone feels and empower them to find the courage to recognise when they need to seek professional help.
" Mental health really matters, so if I can play the smallest part in helping an individual to seek professional help and be on that journey of recovery, then I need no more reward than that."
Rachael, Health & Social Care Trainer 
How did you get into this role?
I have worked in the care sector my entire working life. I started out as a care assistant working in a residential home, I then worked as an auxiliary nurse in Chase farm Hospital for 8 years. I then qualified and worked as an adult staff nurse and worked in that same medical acute ward for 16 years altogether. I had a career break to have my 3 children, then by chance was offered a job as a health and social care manager for a domiciliary care agency, some 9 or 10 years ago, and have never looked back since.
What three skills would you say are key to being successful in your role?
I think to be a Health & Social Care Trainer it's important to have lots of different experiences in care, as it really helps you relate to and understand all care related subject matters. You need to be patient, and adaptable in your learning styles to meet the different learning needs and styles of those you teach.
How long have you been with Abbots Care?
I have been with Abbots care for 3 years next February.
Can you tell us what you love most about your role?
The most satisfying thing for me in my role is knowing that I am making I hope, a real positive difference to the care that is being provided to the vulnerable. Knowledge is power, and knowledge gives us all the confidence to become competent and safe in what we do. You can't be competent without feeling confident, and we gain that confidence through knowledge and experience. Learners can bounce their ideas off me and ask me questions, we have open discussions and swap care experiences and trepidations around care and that's what I love about my role, learning as individuals and learning from each other. Every day is a learning day.
What does a day in your work life look like?
Every day is different and very busy at Abbots care, I would generally follow my training calendar which will tell me what training sessions that I have booked in throughout the day. This could be anything from induction, specialised training, or in house training for the internationals which is always fun. I do some of the training via teams and other training face to face, where I may need to travel to one of the hubs to deliver training for example to a large group of care workers, or sometimes managers inhouse.
As part of my role, I need to be adaptable to meet the needs of the service, so I may have an urgent medication or documentation concerns or error that comes up where I would need to fit in a training session for that group or individual. As the mental health first aider for Abbots care I may also have some mental health wellbeing calls booked in with me when needed. As a trainer I will always adhere to update my own CPD so may be booked in to attend a course myself, or be updating my own CPD. I may be dealing with care certificate enquiries, or assisting a learner with any issues they have with our learn upon system. I am self-motivated so if I have a training cancellation, I will often use this time to research and work on developing a new workshop.
What are your hobbies/ interests outside of work?
I am married, and a mum of 3 kids (all teenagers…… help!!) so as you can imagine my life is rather busy. So I like to try and get away from the madness and most evenings and go for long walks whilst listening to music, it really helps me relax and keeps my mental health in check. I also love to go swimming at the weekends or sometimes I alternate and go for a run. I also love nothing more than a cup of tea, biscuits and watching Netflix with hubby and the kids… what else could a girl want.
What inspires you in your role every day?
Honestly seeing others learn and being a part of that journey. It inspires me when I see individuals grow and develop, I still get a buzz from it. Being able to share my vast years of experience in care with others Is a privilege. I am naturally caring and empathic and have always got immense joy from helping others in whatever form. I got into training by accident but can now honestly say at my ripe old age, that I have found my true vocation. I can't imagine doing anything else now, I have my moments, but for the most part, I genuinely what I love to do, Id be rubbish at anything else that wasn't to do with care.