Parliament Under-Secretary for Health and Social Care shadows home care visit with Abbots Care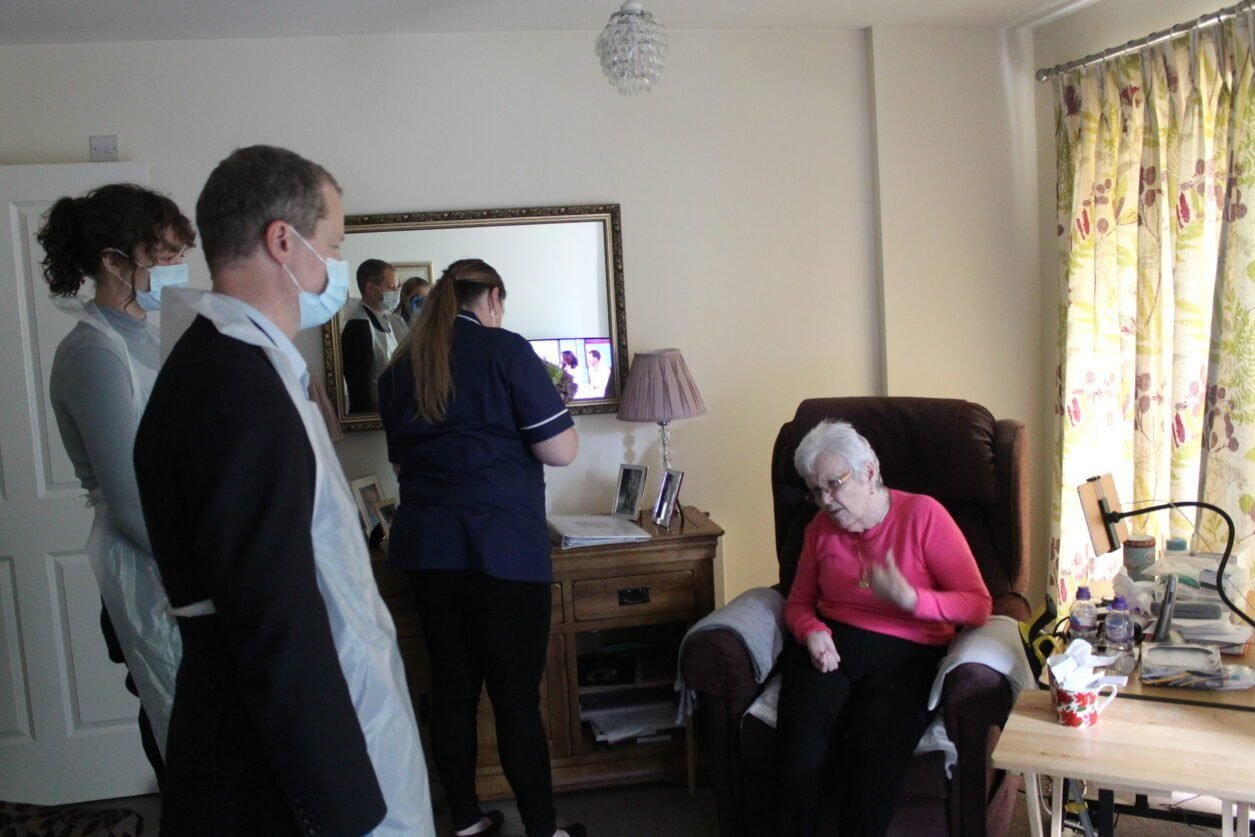 Parliamentary Under-Secretary (Department of Health and Social Care), MP Neil O'Brien spent the morning with Abbots Care on Thursday 13 October to see for himself home care delivered in the community and hear the challenges faced when recruiting and retaining a home care workforce.
After a tour of the offices where he met staff from various departments including care coordination, liaison and recruitment teams (and let's not forget much-loved office dog, Betsy), Mr O'Brien heard from, Helen Sinden, Operations Director and Sarah Hurley, Operations Manager.
They discussed the range of home and live-in care services provided by Abbots Care to people of all ages across the South-East, what it takes to be an outstanding home care provider and the strategy in place to retain a skilled, competent and compassionate workforce.
Mr O'Brien was particularly interested in learning more about the innovative wellbeing app shown during his visit which was developed specifically for the home care workforce by Managing Director and Co-Founder of Abbots Care, Camille Leavold. Aimed at combatting feelings of isolation often experienced by Care Workers and heighted in the wake of the pandemic, Mr O'Brien was shown how the community-minded app allowed Care Workers to log how they're feeling daily, share good news, and praise and support one another.
Mr O'Brien then shadowed a home care visit in the local community. He learned about the role and tasks of a home care worker and was able to gain a greater understanding of the range of needs supported. 
Operations Director, Helen Sinden, said "It was a pleasure to welcome Mr O'Brien to Abbots Care and discuss how important the provision of home care is in enabling people to live well at home, take pressure off the NHS and the investment needed to grow and develop a workforce."
Our story
From humble beginnings to Hertfordshire's leading home care provider.
Read our story here
"The Care staff that are supporting my Mum through her care needs are extremely lovely and supportive. Our Mum has cancer and she is receiving the most excellent and caring support from all Staff. We would just like to say a huge thank you as we know that there is more difficult times ahead for us as a family. "
Child of Service User, Buckinghamshire Branch
See what our service users think